Bhutan is the land of the Thundering Dragon tucked high up in the Himalayas. This remarkable land ruled by a king is a traveler's paradise. Bhutan offers wide range of tours, trekking and other adventure activities with many colorful festivals celebrated year around. Bhutan has abundant natural beauty with open landscapes, majestic Himalayas and beautiful valleys. The land is rich in its cultural heritages with the entire nation following Buddhism. Ancient Buddhist monasteries, fortress, temples and shrines are scattered all over the country with remarkable architecture. As a small landlocked country with about 700,000 people, Bhutan has variety of panoramic scenes that can easily leave you spell bounded. Perfect preservation of both nature and conservation is something all of us need to learn from here. Unlike neighboring countries like Nepal and India, Bhutan is promoting tourism on one hand and also leaving no stones unturned for the preservation of its natural and cultural heritages.
A proper Bhutan Tour including all the must visit the place would take so long. So here's a list of top 5 destinations in Bhutan:
1. Thimphu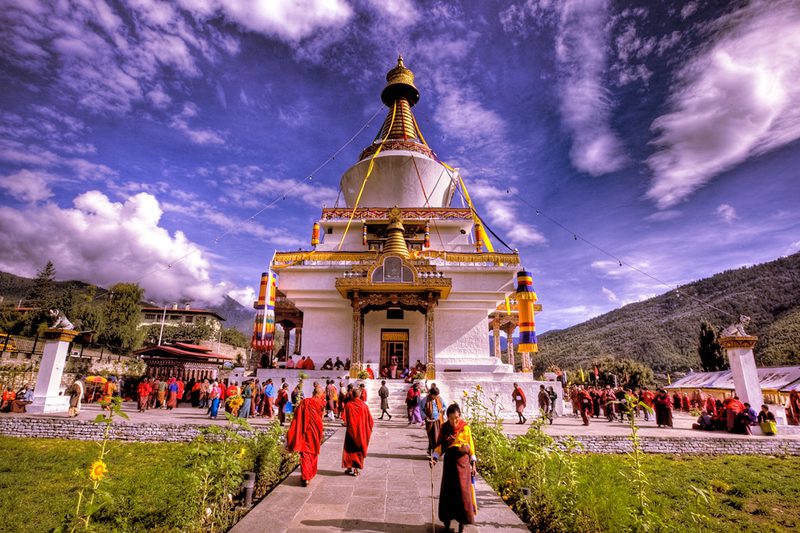 Thimphu is the 4th highest capital of the world by altitude. This city shows a perfect balance between tradition, development and modernization. Some of its major tourist attractions are; National Post Office, Clock Tower Square and Motithang Takin Preserve. National Post Office sells stamps and souvenirs to take back home and yes especially 3D stamps. Clock Tower Square looks alluring with fountains and traditional Bhutanese Mani wall and prayer wheel. On the side, lies luxurious Druk Hotel. Various programs and activities are held here. It was also the checkpoint for SAARC Car rally. Motithang Takin Preserve originally was a mini-zoo in order to preserve Takin, national animal of Bhutan. But Bhutan being a Buddhist country, restricting animals was not considered good. Finally, it was converted into a Preserve to set them free. Also, The King of Bhutan, Jigme Khesar Namgyel Wangchuk lives in his royal residence, Samteling Palace at Thimpu.
2. Paro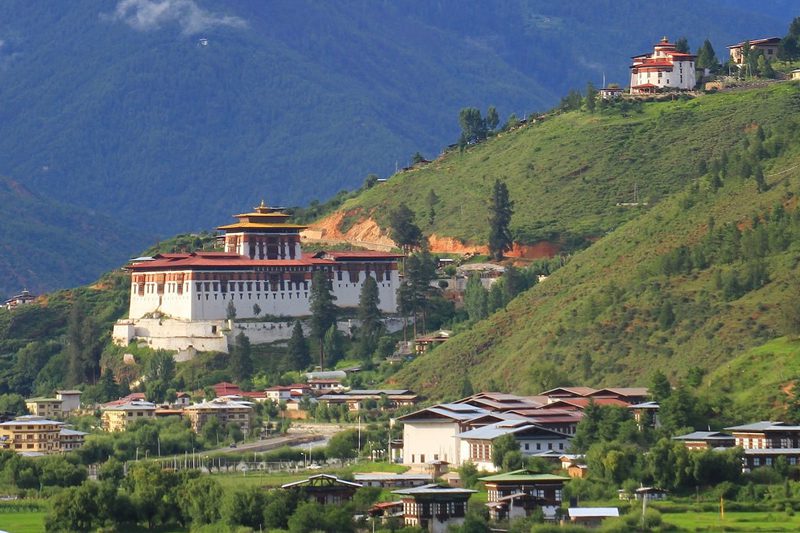 Paro homes the sole international airport of Bhutan serving the capital of Bhutan. Paro Airport is one of the most difficult commercial airports with only one runway. A not be missed dzong, Rinpung Dzong was caught by fire in 1907 while only one Thangka was saved. Ringpung means heap of jewels. And it is as beautiful as its name. Every year an annual function is held during March-April for 5 days. People carry holy images in procession followed by mask dances reciting many ancient stories. The tallest building of Bhutan, Ta-Dzhong (22 m) also lies in Paro. A religious pilgrimage reached by a half trek is the Tiger's Nest which gives you an amazing vista of Paro valleys.
3. Punakha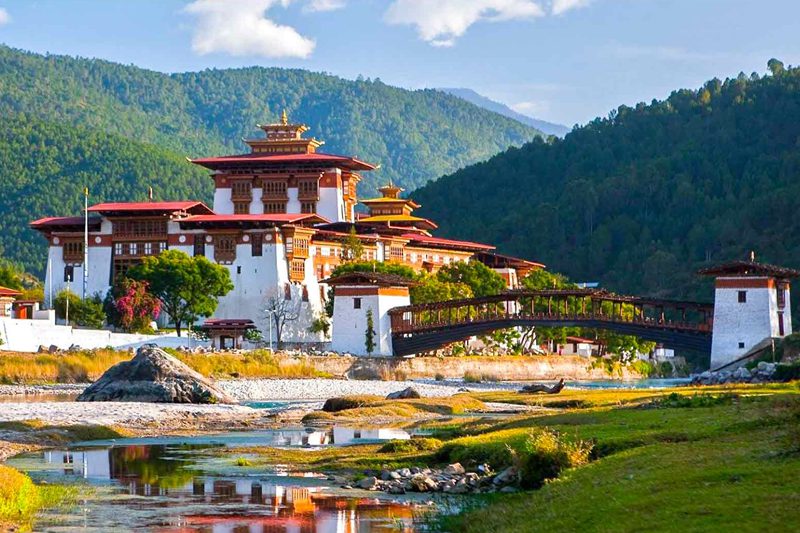 The old capital before Thimpu, Punakha is home to Bhutan's most beautiful Dzong. Punakha Dzong or Palace of great bliss is the second largest dzong in Bhutan with absolutely no use of nails. It took a year to complete the building. All national treasures are kept here. In 1987, it was partially destroyed by fire. It still serves as the winter capital of Bhutan at it is warm in the winter. The first National Assembly was held here in 1953. It is also perfect for treks as its altitude is 1,200 m and no one gets altitude sickness in this altitude. There is no chance of oxygen shortage too. It is considered ideal place for beginners. The Dzong narrates the most beautiful stories of Bhutanese culture whereas showcases Bhutanese traditions. It is also renowned for its amazing architecture in Bhutan.
4. Bumthang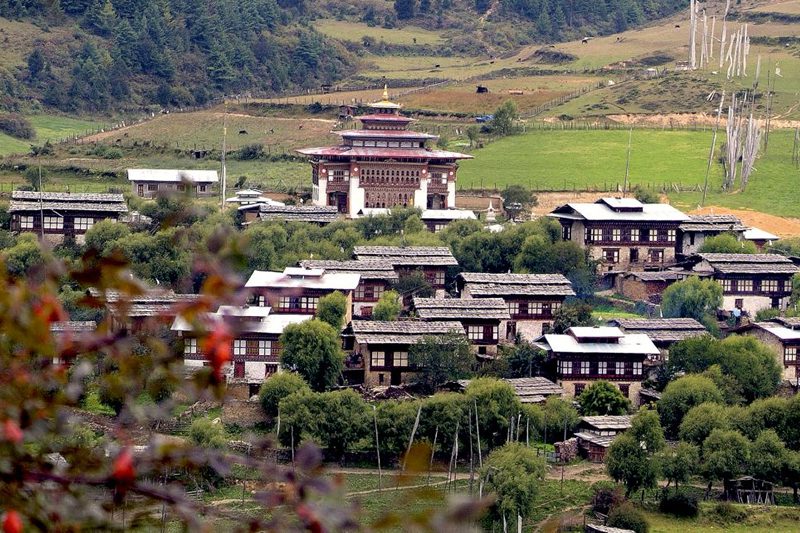 Bumthang is also called Jakar which roughly translates as 'white bird'. It is the place where Buddhism entered Bhutan. A small and unassuming temple which marks the site of 'Iron Palace' lies here. This place is a popular tourist destination in Bhutan. Most of Bumthang district is part of Bhutan's extensive protected areas like national parks, nature preserves and wildlife sanctuaries. The Bumthang valley has an eye-catching view of ancient glaciers which draws a large number of tourists every year. Some of the Bhutan's oldest and most venerated temples are found in Bumthang district including Jambey Lhakhang. The valleys of Bumthang are very fertile and buckwheat, rice and potatoes are seen to be grown here.
5. Wangdue Phodrang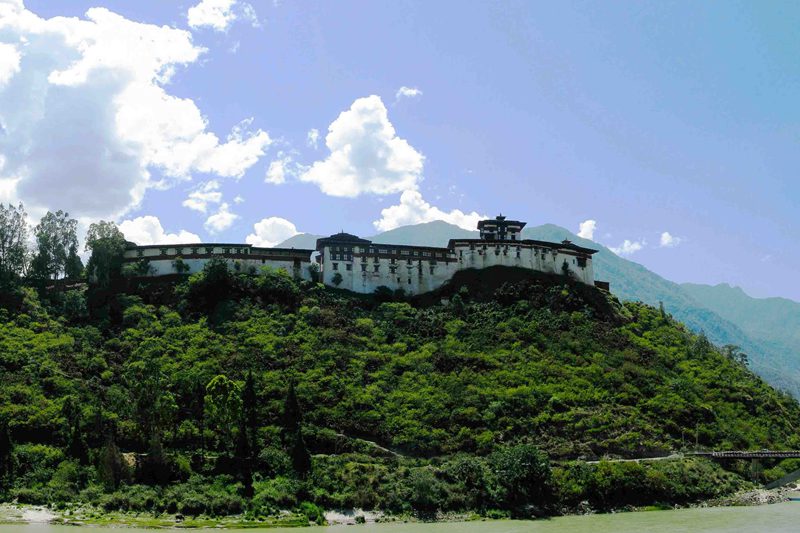 Home to Wangdue Phodrang Monastery, it welcomes many black necked cranes every year. The people here are aware about the preservation of these rare birds. For this purpose, Crane festival is held as religious blessing on 12th November which is a day after the celebration of the King's birthday. The festival includes songs, masked dances and plays by the local school kids. Talking about the dzong, it is one of the best sites in Bhutan which was caught by fire in 2012. It was under renovation at that time so all traditional relics were safe. It is under reconstruction. The small town, Phobjikha by mountains and valleys dipped in lush greenery making it one of the best places to see in Bhutan. If you're here, you shouldn't miss Jigme Singye Wangchuk National Park where you can see leopards, barking deer, Himalayan black bears, wild boars and red pandas.