Trip Facts:
Trip Name: Best of Bhutan Tour
Trip Id: TIB1398
Trip Duration: 07 Days
Max. Altitude: 3,120m/10,240 ft (The Tiger Nest Monastery)
Best Season: March to May and September to November
Meal: Full board (breakfast, lunch and dinner)
Accommodation: Government approved 3 stars and Above
Transportation: Private car, van or bus (Depends on group size)
Trip Type: Private Tour
Trip Overview:
Best of Bhutan Tour offers visits to some outstanding and remarkable places around the Dragon Kingdom. The tour en-circulates around the green valley of Paro, proceeding towards the tiny capital Thimphu and the old capital – Punakha and to ultimately end at Paro. Thimphu offers great sightseeing opportunities from visit to King's memorial Chorten to centenary famer's market, authentic craft bazaar and many other sites. Punakha Dzong is arguably the most impressive Dzong in Bhutan. Hike up to the Chimmi Lhakhang is simply outstanding en-route Thimphu to Punakha. Visit a Gangtey valley also known as Phobjikha Valley. One of the prime highlights of the tour is visit to the Taktsang Monastery 'Tiger's Nest' perched on a vertical cliff closer to the Paro town. Best of Bhutan Tour covers all the important landmarks and what the best Bhutan has to offer to the outside world and simply experiencing the local culture and tradition of this kingdom located high up in the Himalayas.
Trip Highlights:
Witness spectacular bird's eye view of the Himalayas while flying in/out from Paro. 
Explore Paro exploding with colors and tradition. 
Guided city tour of the tiny capital Thimphu. 
Visit Taktsang Monastery 'Tiger's Nest'- one of the most famous monasteries in Bhutan. 
Visit Punakha Dzong – the most beautiful monastery in Bhutan. 
Gengtey (Phobjikha Valley) 
Kyichu Lhakhang – the oldest & most sacred shrine. 
Experience Bhutanese culture, tradition and lifestyles. 
Outline Itinerary:
Day 01: Arrival Paro (2250m) – Thimphu (2350m)
Day 02: Thimphu – Punakha (1310m)
Day 03: Punakha (1310m) – Gangtey (Phobjikha Valley) (2320m)
Day 04: Gangtey (Phobjikha Valley) – Thimphu (2350m)
Day 05: Thimphu – Day excursion to Haa Valley (2740m) – Paro
Day 06: Paro – Hike to Taktsang Monastery 'Tiger's Nest' (3120m)
Day 07: Paro depart
Day to Day Itinerary:
Day 01: Arrival Paro (2250m) – Thimphu (2350m)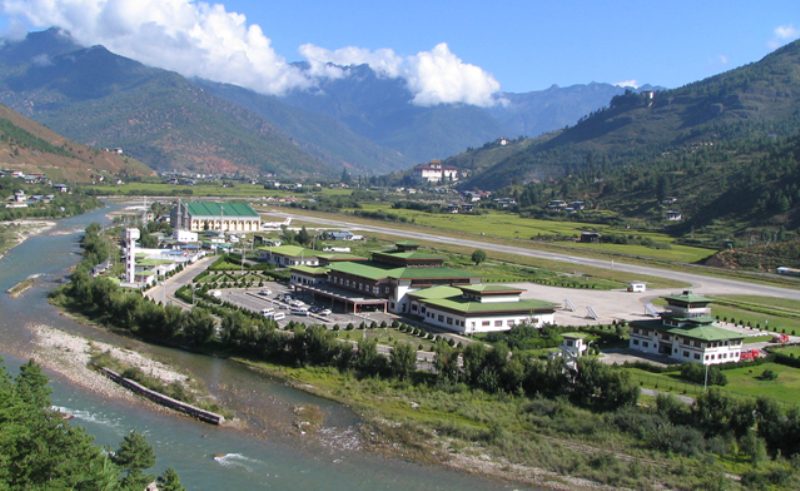 Arrive Paro by Bhutan's national carrier, Druk Air, and it's a scenic flight as the plane touch down the lush green Paro Valley flying past the world's highest mountains. Steeping down from the plane, cool, clean and fresh air welcomes the visitor, the first gift of Bhutan. After clearing the customs and visa formalities met by the representatives and transfer to Paro for lunch. Afterwards, visit Rinpung Dzongbuilt in 1646 by Shabdrung Ngawang Namgyal, the first spiritual and temporal ruler of Bhutan. Then drive to Thimphu (1 hour) following Pa Chhu downstream.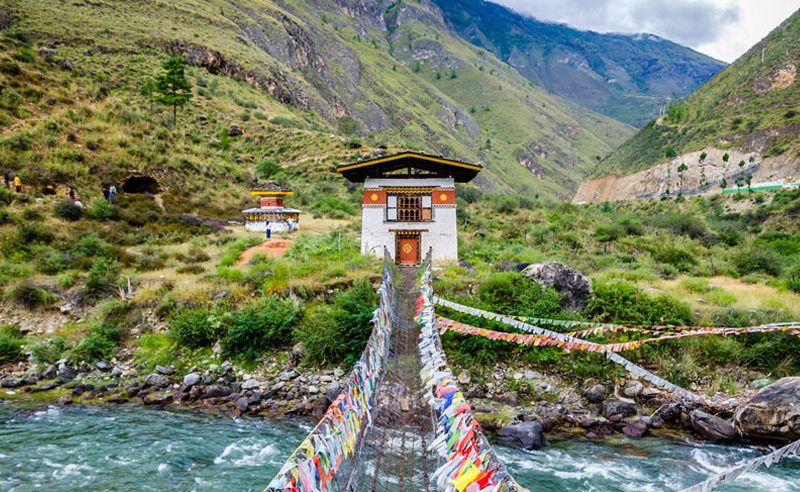 In Thimphu, drive on to the Buddha Terrance for a stunning view of the valley and take a drive to visit Takin Preserve to see Takin, Bhutan's national animal – a strange looking beast which some say resembles a beestung moose! Take a view of the majestic Tashichoe Dzong, the seat of the government before circumventing the Memorial Chorten – a monument erected in memory of Bhutan's third king H.M. Jigme Dorji Wangchuk. Visit Centenary Farmers Market, the new authentic craft bazaar, National Institute of Traditional Medicine that still dispenses traditional herbal medicines to the locals, the Folk Heritage Museum – a 300 year old traditional house converted into a museum. Overnight at Hotel (Lunch/Dinner included)
Day 02: Thimphu – Punakha (1310m)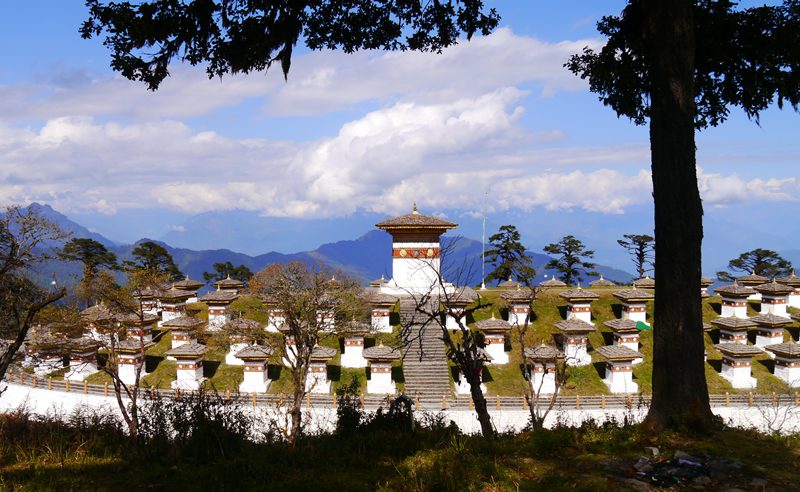 After breakfast, drive for about 1 & half hour to Punakha. Climb up the mountain road to Dochula La at 3140m. On clear weather, the pass commands a wonderful panorama of the Eastern Himalayas. From the pass, descend through varied forest and finally emerging into the highly cultivated valley of Punakha. Take a short hike through beautiful rice fields to Chimmi Lhakhang, a temple dedicated to Drukpa Kuenley, who as a favorite saint of the Bhutanese people is known affectionately as "the Divine Madman". The temple is on a hillside in the middle of rice fields and has become a pilgrimage site for childless couples. Overnight at Hotel (Breakfast/Lunch/Dinner included)
Day 03: Punakha – Gangtey (Phobjikha Valley) (2320m)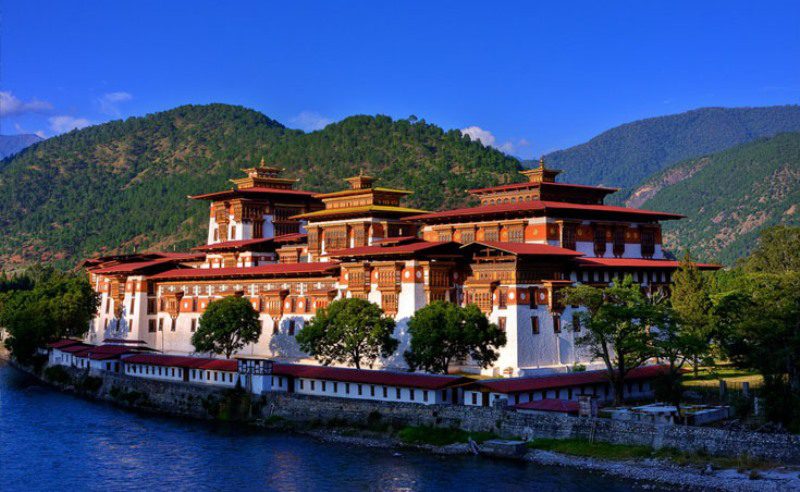 Drive to Gangtey via Wangdue. After Wangdue, the drive is up a winding mountain road through oak and rhododendron forest, and over a high pass down into the Phobjikha valley, surely one of the loveliest high altitude valleys in Bhutan. Phobjikha is one of Bhutan's few glacial valleys, and chosen winter home of black-necked cranes, migrating from the Tibetan plateau. Enjoy 1½ hours Gangtey nature trail from the monastery through the jungle before emerging to the valley floor. Overnight at Hotel (Breakfast/Lunch/Dinner included)
Day 04: Gangtey (Phobjikha Valley) – Thimphu (2350m)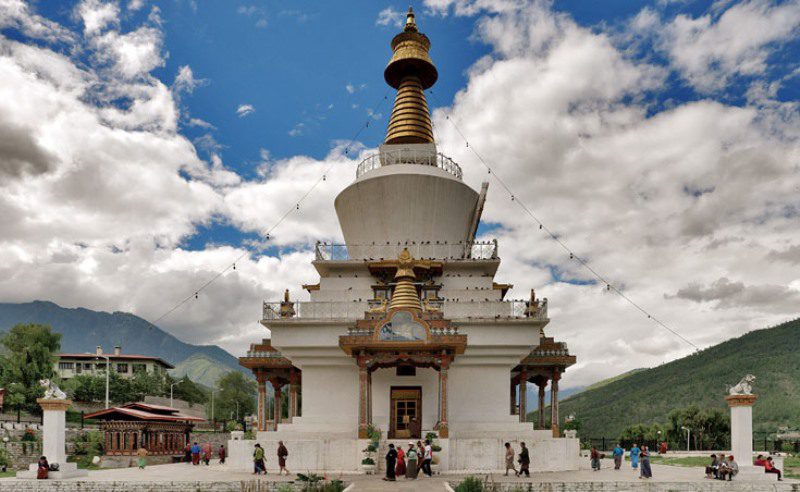 After breakfast, drive back to Punakha to visit a stunning hill-top nunnery – Sangchen Dorji Lhundrup Chholing. Have a chat with the nuns and enjoy the charm of the surrounds! The main temple is dedicated to the bodhisattva of compassion (Avaloketeshvara) and next to the temple is a beautiful Stupa and there are slate carvings of religious figures. Re-crossing Dochula and drive towards Thimphu upon arrival check-in hotel. Overnight at Hotel (Breakfast/Lunch/Dinner included)
Day 05: Thimphu – Day excursion to Haa Valley (2740m) – Paro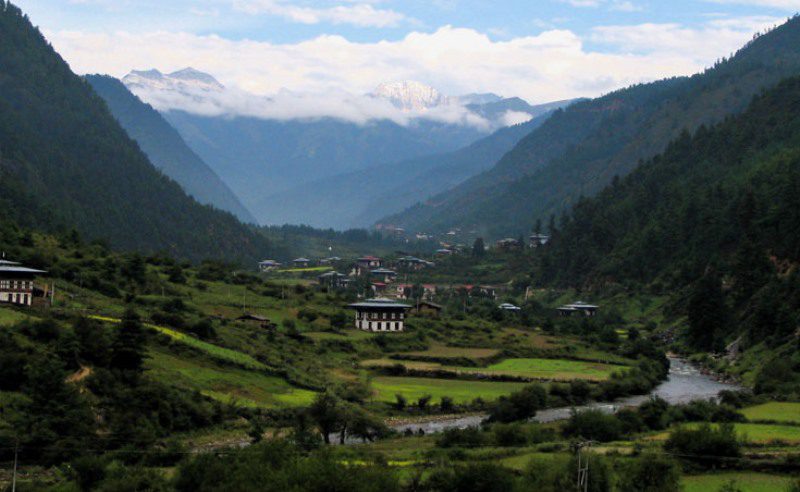 After breakfast, drive over the Chelela pass (3899 m). From the pass, good view of the Himalayan Ranges and the valley beyond can be spotted. Then continue the drive towards Haa. Haa is made up of five counties and was closed to outside world until 2002. There is a military camp by the Indian Army. In Haa valley, visit Wangchucklo Dzong dating back to 1915 and Lhakhang Nakpo (Black temple) is said to have been built by pigeon emanation of King Songtsen Gampo in the 7th century and Lhakhang Karpo (white temple). After the visit drive to Paro. Overnight at Hotel (Breakfast/Lunch/Dinner included)
Day 06: Paro – Hike to Taktsang Monastery 'Tiger's Nest' (3120m)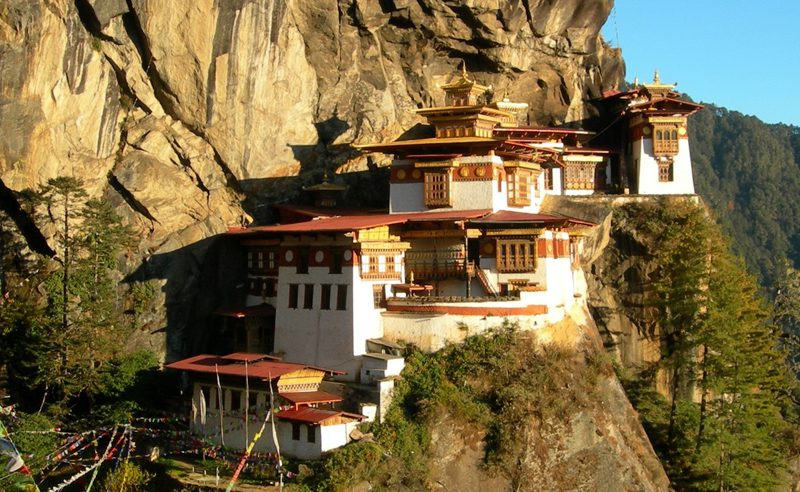 After breakfast drive towards the base camp of Taktsang for the hike up to the Taktsang Monastery-Tiger's Nest. It's about two hours hike up the cafeteria. From this point, enjoy the spectacular view of the monastery, where Guru Padmasambhava landed on the back of a tigress in 8th century. Then visit the Taktsang Monastery and hike back to the road point then drive to Kyichu Lhakhang, one of the oldest and most sacred shrines in Bhutan. Afterwards, back to hotel. Overnight at Hotel (Breakfast/Lunch/Dinner included)
Day 07: Paro depart
After breakfast, transfer to the airport to catch the onward flight. Bid farewell to the remote and legendary Dragon Kingdom disappearing again behind its guardian mountains. (Breakfast only included)
Cost Details:
To obtain a special price for this trip, please kindly contact us using Request a free quote form below ↓
Includes the following service during Bhutan Tour:
• Airport pick-up and drop-off by private vehicle.
• 3-star accommodation (4 & 5 stars may require an additional premium).
• Bhutan visa fee – including all necessary processing
• Route Permit
• Three meals per day during your stay in Bhutan
• A licensed Bhutanese tour guide
• All land transportation by private vehicle
• Camping equipment and haulage for trekking tours
• Sightseeing as per itinerary
• Drinking water
• All internal taxes and charges
• A sustainable development fee of $200 per person per night. (This sustainable development fee goes towards free education, free healthcare, poverty alleviation, along with the building of infrastructure.)
Excludes in the package cost:
• Monuments entrance fees where applicable (Entrance fees)
• Airfare & Travel Insurance
• Expenses of personal nature, Tips to guides and drivers
• Expenses occurred due to unavoidable events i.e. road wrecks, flight delays etc.
Note:
On the day of departure, the 'local agents' host obligation shall be limited to providing breakfast only and any extra requirements shall be payable on a usage basis.
Our entire Bhutan tours are private journeys and tailor made programs suited for any independent travelers according to their chosen traveling dates. Should you wish, the tour can be easily customized as per your interest and activities you wish to get involve in or spend more time in your places of interest. Contact us to customize this tour as per your requirements. This tour can be undertaken round the year.